Chelsea Blue White Blue Trim Design Stan Smith
The Chelsea Blue White Blue Trim Design Stan Smith is a stylish and comfortable choice for any sneaker fan. This classic shoe has a timeless look that will keep you looking fashionable without breaking the bank. The design's unique blue, white and blue trim combination draws attention and will keep your wardrobe looking fresh. The Stan Smith construction offers great support and cushioning with its high quality leather upper, padded lining and Ortholite sockliner insole. These flexible and breathable shoes will go the distance in terms of durability, comfort and style. Step up your game and add a great fashion statement to your look with the Chelsea Blue White Blue Trim Design Stan Smiths.
These Stan Smith sneakers provide a classic yet contemporary feel. The timeless white and blue design is accented by a bold blue trim and classic perforation pattern, all of which makes for a shoe that exudes confidence and style. The fact that they are named after tennis legend Stan Smith, a testament to their enduring quality and style. The upper of the sneaker is constructed from premium leather to ensure long-lasting wear and comfort. The perforations along the side, often referred to as the 'Stan Smith', are timeless and iconic, making it an instantly recognisable design. Inside, you'll find a lightly cushioned insole, as well as a durable rubber sole to keep you comfortable and steady as you walk. The design of this sneaker is a head turner, regardless of the occasion. Whether you're collecting groceries, taking a walk in the park or heading to a party, these Stan Smiths are guaranteed to level up your outfit. The blue detailing is further highlighted when it catches the light, giving a subtle shimmer and adding an extra level of sophistication.Finally, comfort is at the forefront of these Stan Smith sneakers. The upper is constructed from premium materials and combined with a lightly cushioned insole and a supportive rubber sole, you can sure feel great all day long. The timeless design and ultimate comfort makes the 'Chelsea Blue White Blue Trim Design Stan Smith' a must have for SneakerHeads and fashionistas alike.
Chelsea Blue White Blue Trim Design Stan Smith Information
KEY FEATURES:
The Stan Smith sneakers are a must-have for every outfit because they can go with whatever you own.
Both the playground and the tennis court are excellent places to use these shoes.
These sneakers feature an unmistakable design and snug fit.
Ideal as a present for housewarmings, birthdays, celebrations, and special occasions like Christmas.
PRODUCT INFORMATION:
The shoe?s tonal rubber outsole enhances traction in all weather conditions.
These shoes, which are made of enduring full-grain leather and have a silky-smooth synthetic inside, will make you pleased every break.
PRINTS:?Dye-sublimation printing
WASHABLE:?Clean with towel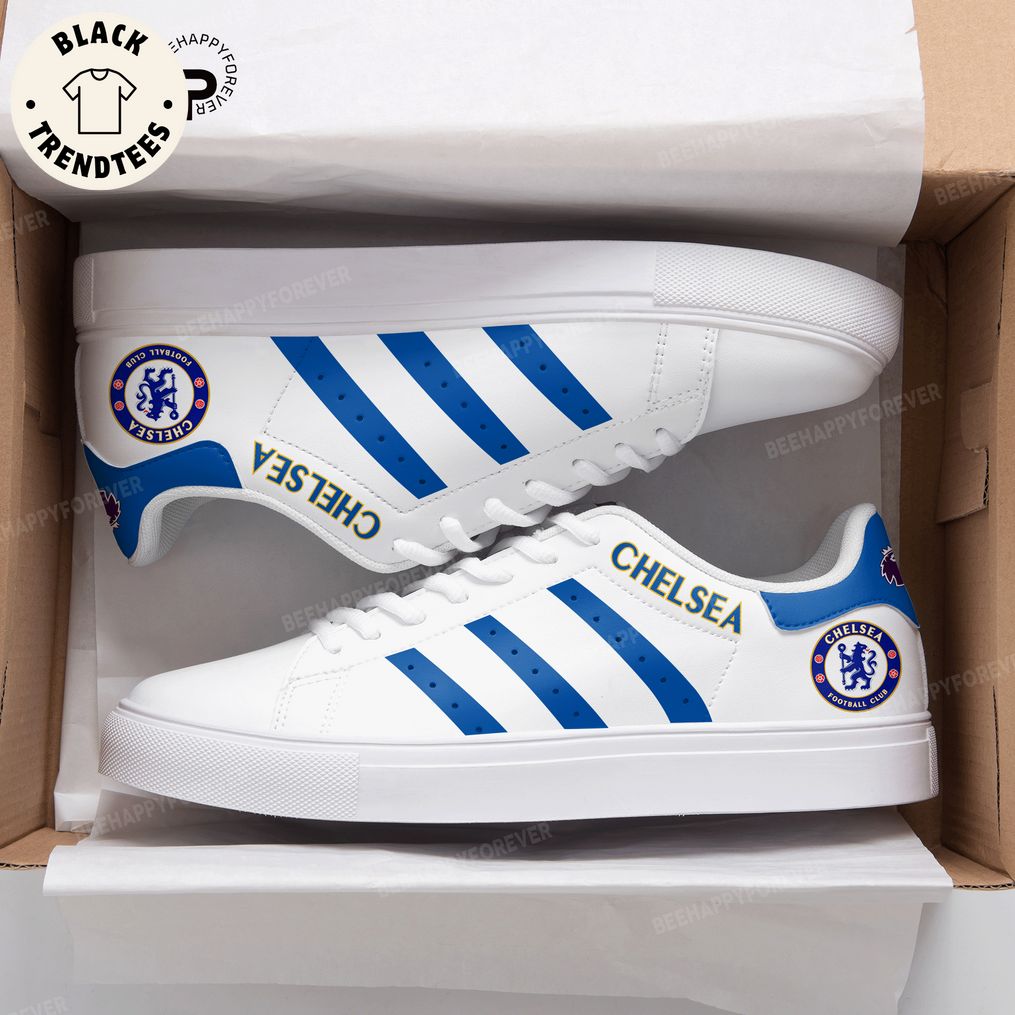 See More At: