Blink 182 20 Year Anniversary Design Hooded Denim Jacket
This Blink 182 20 Year Anniversary Design Hooded Denim Jacket is the perfect combination of style and comfort. It is made from a cotton-spandex blend denim fabric with an embroidered logo on the front. The hood has a drawstring closure, and the cuffs and hem are ribbed for a comfortable fit. The jacket is unlined, so you don't have to worry about bulkiness. The jacket is distressed and features a unique design that celebrates the band's 20th anniversary. The colors of the jacket include blue, red, and yellow, making it a very distinctive and eye-catching piece. It is a great choice for fans of the band who want to show their love in a stylish and unique way.
Walking through the chilly air, I can feel the warmth as I slip my arms through the comfortable fabric of the hooded denim jacket. The classic and soft blend of cotton and denim mixed with the feel of fleece makes every movement feel almost effortless. I can't help but to admire the colorful design that covers the entire piece. The classic Blink 182 font printed across the center of the chest is a great reminder of the band's 20th anniversary. Additionally, there are 12 individual patches placed across the back and sides of the jacket. With each patch having its own unique, iconic design. The contrasting shades of dark denim and light stitching make it a stand out piece for your wardrobe. Undeniably, the most impressive feature is the intricate line drawings placed on the back of the jacket. Along with the fun designs, the hood adds a unique element to the piece. It's a great way to stay warm and makes it the perfect piece to wear during any show. All in all, this hooded denim jacket is the perfect blend of style and nostalgia making it an essential piece for any Blink 182 fan.
Blink 182 20 Year Anniversary Design Hooded Denim Jacket Information
Materials

: Denim fabric, component cotton

This shirt has a button up front, a classic collar and two button chest pockets.

On the back is very large with great looking design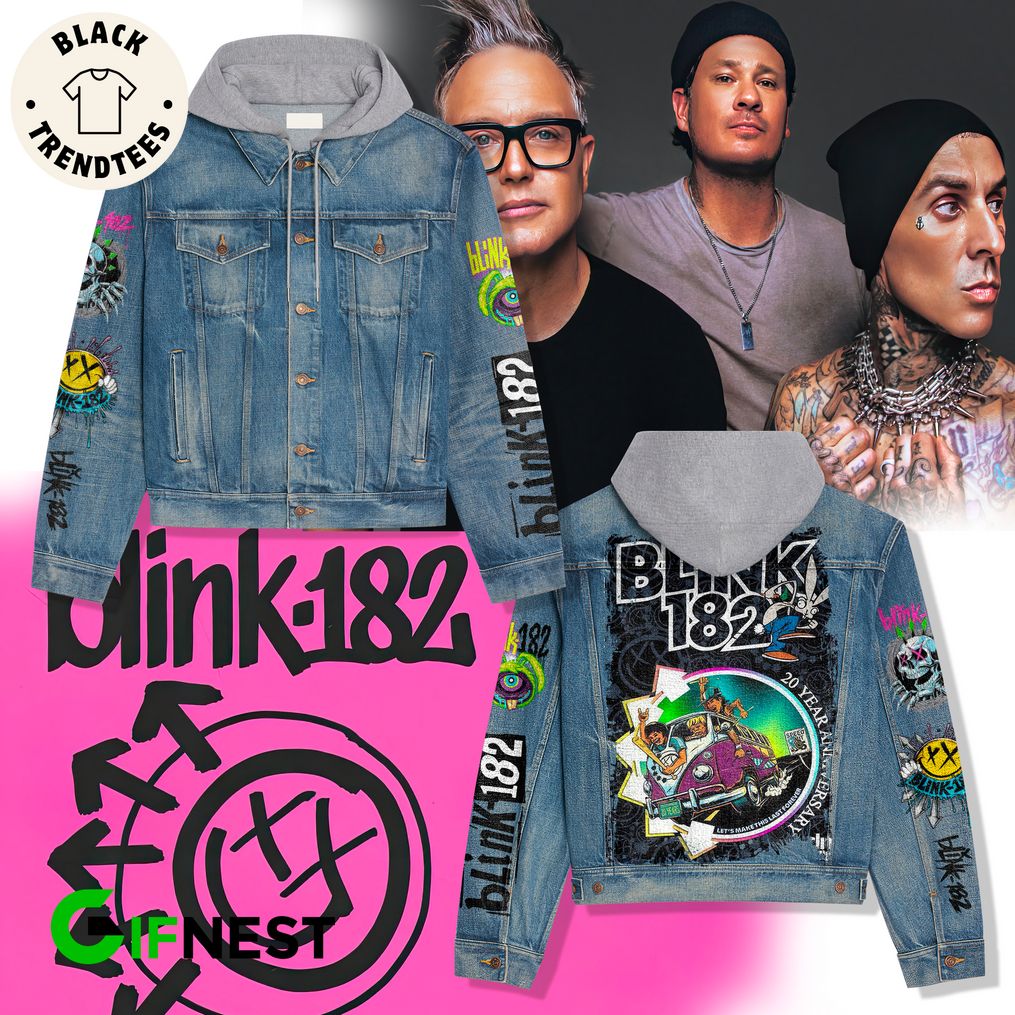 See more: