In Newcastle, Mo Farah concluded his illustrious competitive racing career by securing fourth place in the Great North Run half-marathon. Recognized as "Sir Mo" with a bib bearing his name, the six-time Great North Run champion completed the race in one hour, three minutes, and 28 seconds. Along the final stretch, he exchanged high-fives with numerous spectators who lined the route.
During an interview with the BBC, Farah shared his thoughts on the event. He expressed his desire to conclude his career in Newcastle, where he had previously claimed victory six times. Reflecting on his journey, which included participation in the Olympics and World Championships, he described the experience as emotional. Farah also mentioned his intention to enjoy quality time with his wife and children. He acknowledged that running had been his primary focus, noting that sometimes the value of winning becomes more evident when faced with losses. Farah also discussed the challenges he had encountered due to injuries in recent years.
In the men's race, Ethiopia's Tamirat Tola, the reigning 2022 world marathon champion, secured victory with a time of 59 minutes and 58 seconds. This performance served to erase the memory of his disappointing marathon at the world championships held in Budapest last month, where he did not finish. The women's race was won by Peres Jepchirchir, who completed the course in 1 hour, 6 minutes, and 45 seconds.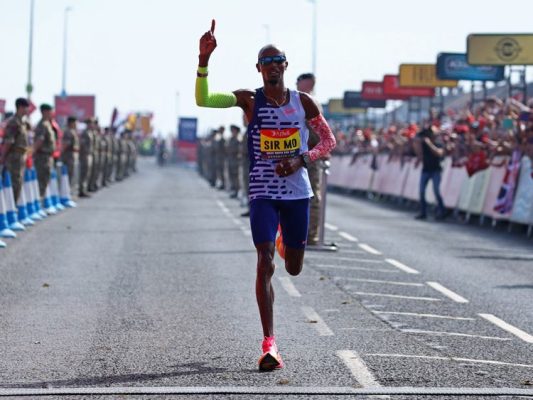 Mo Farah, a 40-year-old athlete, boasts an impressive track record with six world championships and four Olympic titles to his name. His remarkable achievements include securing gold medals in both the 5,000m and 10,000m races at the 2013 and 2015 world championships. Farah achieved the coveted double victory again at the 2012 London Olympics and once more at the 2016 Rio Olympics.
Reflecting on his journey, Farah highlighted the importance of having a pursuit that brought happiness and purpose into his life. He shared his personal story, emphasizing the challenging circumstances he faced as a child. Born in Somalia, Farah made a revelation in 2022 that shed light on his early life experiences. He disclosed that he had been brought to the UK illegally and compelled to work as a domestic servant at the tender age of nine. Despite the hardships he encountered, Farah's dedication and talent led him to become one of the most celebrated athletes in the world.