I Only Want To See You Laughing In The Purple Rain Hooded Denim Jacket
The I Only Want To See You Laughing In The Purple Rain Hooded Denim Jacket is a must-have for anyone looking to add a unique touch to their wardrobe. The combination of denim and a hood make this jacket perfect for chilly days and evenings. The stylish and bright purple color of this jacket instantly adds a pop of color and character to any outfit. The material is comfortable enough to be worn all day long, while still providing enough coverage to keep you warm. It features detailed embroidery stitching that adds a touch of style and class to the jacket. The lightweight fabric keeps you cool while the hood blocks out the chill. Whether you are looking for a new addition to your autumn wardrobe or looking to add a colorful piece for a night out, this jacket is an excellent choice.
.When researching stylish outerwear, the search can be a long and daunting task. After finding the perfect denim jacket, however, it can be an awe-inspiring experience. The perfect denim jacket brings comfort and style to any outfit and can easily transition from day to night. The features of this particular denim jacket are nothing short of amazing. From the beautiful deep purple fabric, to the intricate embroidered detailing, this item is sure to turn heads. Even better, it is made of quality materials that are sure to last for years to come. Its hoodie design is the perfect blend of practicality and fashion. Not only will the hoodie keep you warm and cozy in cold weather, but it will also keep you looking stylish rain or shine. To top it off, the detailing of this denim jacket in the form of captivating messages of positivity including "Laughing In The Purple Rain" are sure to add an extra bit of cheer to its wearer. This denim jacket is sure to please anyone seeking both style and comfort. From its premium fabric to its unforgettable slogan, this denim jacket is a winner.
I Only Want To See You Laughing In The Purple Rain Hooded Denim Jacket Information
Materials

: Denim fabric, component cotton

This shirt has a button up front, a classic collar and two button chest pockets.

On the back is very large with great looking design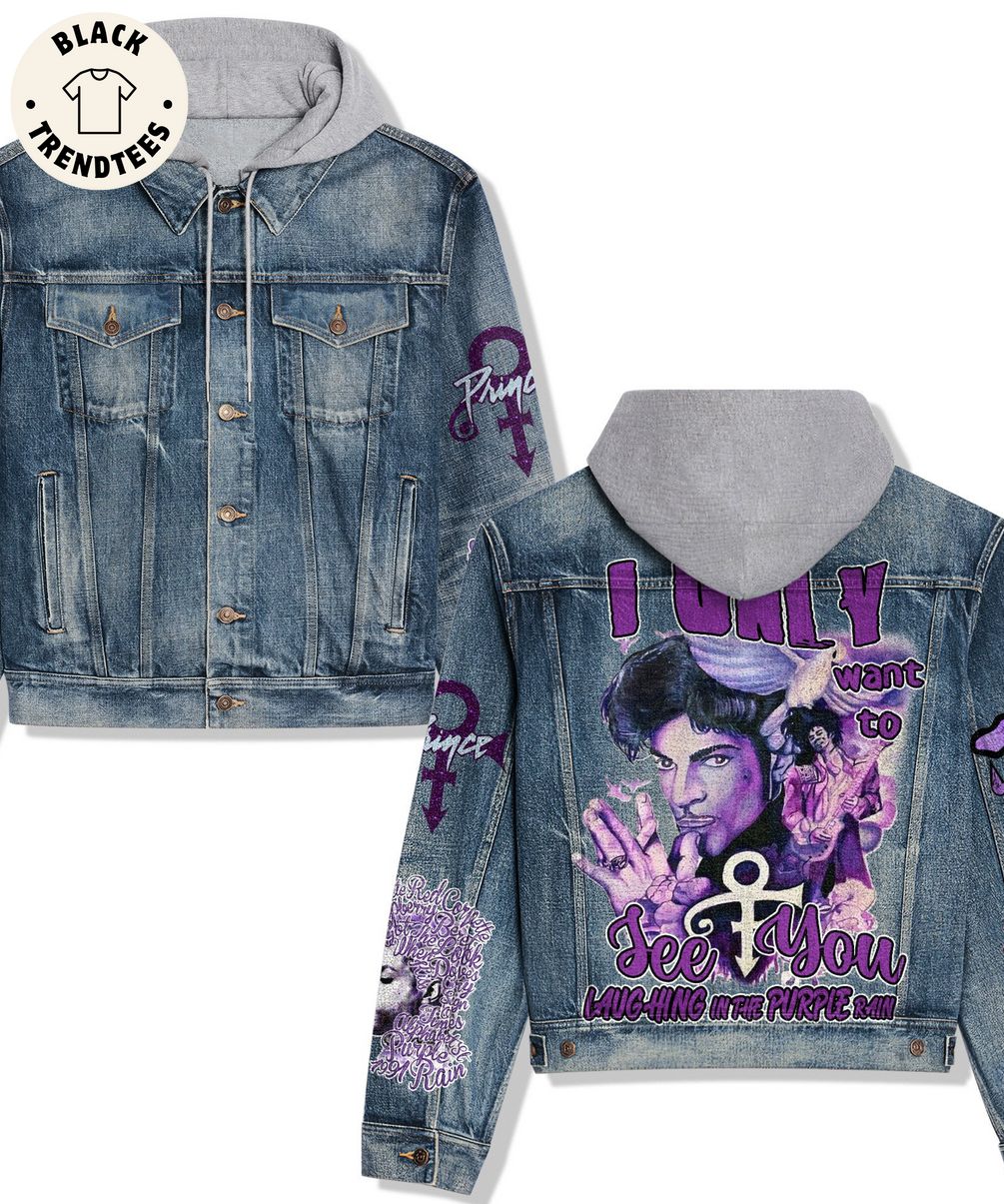 ,